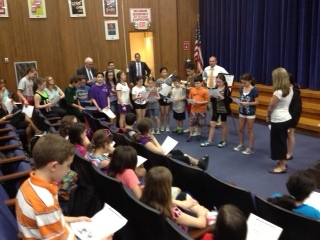 In an effort to empower our students to "stand up" against harassment and to promote a positive school climate, our students were given an opportunity to submit their ideas and thoughts for our new Mattlin pledge. These ideas were compiled by our staff to create one single pledge to unite our school community. A ribbon-cutting ceremony took place on April 16th to recognize all of our student's efforts.
Making the Pledge School-wide:
The pledge has been distributed to each MAP class and signed by every student in our building. We are creating a school wide chain using the signed pledges. We would love to involve the families of our students in the chain thus creating a connection of strength that can never be broken. Please print out the following link, sign it, and have your child return it to their MAP teacher or the Guidance Suite.
Home Links:
PRIDE Pledge Link
Pledge:
New Mattlin PRIDE Pledge